Mobile Gallery Service
We deliver the artwork to your doorstep to check on your own walls then you decide! NO STRINGS ATTACHED!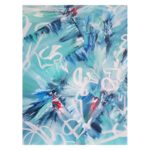 "Shattered"
AED 1,550
Original, unique, abstract acrylic painting made with the palette knife on a stretched canvas. This piece is painted on the sides as well and it does not require a frame. This painting is fitted with a wall hook and is ready for hanging on your wall. Original artwork signed and dated on the back by the artist.
Dimensions:
H: 100cm
,
W: 80cm
,
D: 4cm
.
Rooms:
Bedroom, Common Areas, Dining Room, Kids Room, Living Room
Shape:
Horizontal, Vertical
*Please click on image for more details on the artist's technique and colours used.
*Kindly note that variations to the image shown may occur as these are hand painted products.
Seller: Artchic
Location: Dubai
In stock
Subscribe & Stay Up To Date