Mobile Gallery Service
We deliver the artwork to your doorstep to check on your own walls then you decide! NO STRINGS ATTACHED!
Sale!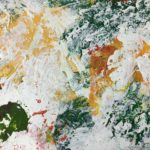 Floral
AED 1,500
Must see in real as pix don't do justice From the Floral series A new unique piece size 120x90 cm Rich layers of high quality acrylic on a deep edge 3D canvas ready to hang (no need for frame unless desired) Full of color and texture Price is 950AED only including free delivery within Dubai. Shipping to other emirates is available at an additional reasonable fee.
Dimensions:
H: 90cm
,
W: 3cm
,
D: 120cm
.
*Please click on image for more details on the artist's technique and colours used.
*Kindly note that variations to the image shown may occur as these are hand painted products.
Seller: Artchic
Location: Dubai
Sold Out
Subscribe & Stay Up To Date