Mobile Gallery Service
We deliver the artwork to your doorstep to check on your own walls then you decide! NO STRINGS ATTACHED!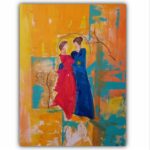 Conversation
AED 1,999
happy friendship is a long conversation , which always seems too short
Dimensions:
H: 90cm
,
W: 60cm
,
D: 2cm
.
Rooms:
Common Areas, Living Room
*Please click on image for more details on the artist's technique and colours used.
*Kindly note that variations to the image shown may occur as these are hand painted products.
Seller: Artchic
Location: Dubai
In stock
Subscribe & Stay Up To Date