Mobile Gallery Service
We deliver the artwork to your doorstep to check on your own walls then you decide! NO STRINGS ATTACHED!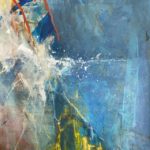 Breakthrough
AED 6,500
We live a layered life. Layers of fears, layers of anxiety, layers of hope, layers of sadness, layers of happiness, layers of love… and the list is endless. These emotions of colors, dark and light, dim and bright, all transpire through this painting. Layers of emotions that make this piece a very powerful one. Streaks of bright light shine through an intricate mix of colors. Mixes of blues and yellows with earth tones and a strong splash of red add a dynamic and a positive vibe that uplifts and brings happiness to the viewer. The artist used Acrylic paint to create layers and build a complex and interesting composition. She wants the viewer to create his own story when looking at the piece. It's an open conversation that can lead to many different interpretations and this is where it gets interesting. What do you see and how do you feel when looking at this painting? Are you inspired by the streaks of light that take over the composition and aspire feelings of hope and joy? Or are you more attracted to the strong and powerful colors of red that move your emotions from within? Would love to hear your thoughts…
Dimensions:
H: 98cm
,
W: 98cm
,
D: 2cm
.
Rooms:
Common Areas, Dining Room, Living Room
*Please click on image for more details on the artist's technique and colours used.
*Kindly note that variations to the image shown may occur as these are hand painted products.
Seller: Artchic
Location: Dubai
In stock
Subscribe & Stay Up To Date